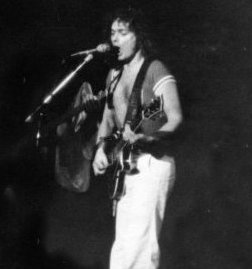 ---
TAPES
---
NOTE:
I hate tapes. Always did. I made a conscious but painful decision to NOT collect tapes.
I do have a couple though... and they are NOT all cassettes.
---
MAC'S PARTY POP FESTIVAL
(1973) <recording source unknown*>
¼" recording tape, 7" reel
*Possibly recorded for local radio airplay
Click HERE for setlist

YOU WON'T DANCE WITH ME
(7/9/77) Electric Lady Studios
¼" recording tape, 5" reel, 7 ½ IPS
I do not know if this is the studio recording or the live one (no way to play it)

ANIMAL GRACE - PROMO RADIO SPOT
(1984) Capitol Records S-2488
¼" recording tape, 5" reel, 7 ½ IPS, Stereo 1/2 Track
60 second radio promo for Animal Grace, featuring "This Could Be The Right One", "Sons Of The Pioneers", and "Rock Tonite"

WE LIKE TO ROCK!
(1988) Capitol Special Markets 4XL9780
Hits compilation
Two copies - one with a WHITE cassette shell (sealed), one with a CLEAR cassette shell

ATTITUDE Promo Sampler
(1993) F.R.E. Records Inc. SPRO 003
ADVANCE CASSETTE
Two copies - one with a white j-card (shown) and one with a red j-card
Tracklist:
<Same on both sides>
Good From Far, Far From Good
If You Believe In Me
Thatís Love
Hereís Looking At You Kid
Love Your Stuff
Voice In My Heart

ATTITUDE - The Rock Radio Network World Album Premier
(1993) F.R.E. Records Inc. SPRO 004
Limited Edition ADVANCE CASSETTE (sealed)
Contains an interview with Myles Goodwyn
---
---