---
7" SINGLES
The European & Japanese picture sleeves are fabulous!
12" SINGLES & EPs
Promo and otherwise.
VINYL LPs
All the commercially released albums, from all over the globe.
ACETATES
What's an acetate you ask? Click HERE for the Wikipedia explanation.
VARIOUS ARTIST LPs including APRIL WINE
Compilation albums that include tracks by April Wine. Imports too.
COMPACT DISCS
Including imports, promos, & CD singles.
VARIOUS ARTIST CDs including APRIL WINE
Ditto the Various Artist LPs description.
RADIO SHOWS & PROMO-ONLY LPs & CDs
King Biscuit Flower Hour LPs, etc... stuff you can't buy at Sam Goody's.
MEMORABILIA
If it isn't a recording it's probably in here. Pins, posters, books, clothing, ticket stubs, etc..
CONCERTS & INTERVIEWS
Audience recordings & radio broadcasts... your basic bootleg audio tapes.
CASSETTES & REEL TAPES
Not much to see... just a few unique items I decided to hang onto.
VIDEO
Concert footage, etc. including movies that feature April Wine songs.
APRIL WINE - RELATED MATERIAL
Pre-April Wine stuff, solo albums, cover songs, off-shoot bands and...
---
LINKS &...
A mind-boggling assemblage of info, pics, links, and miscellany.
(...plus a special treat, if you're persistent)
---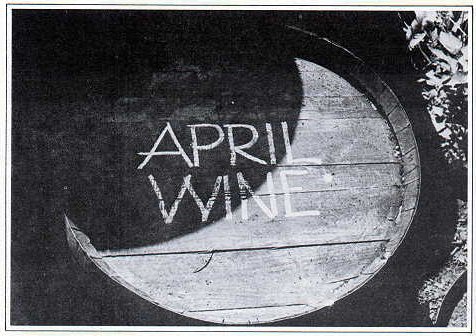 Comments? Questions?
Contact me at
winefandave@gmail.com
---