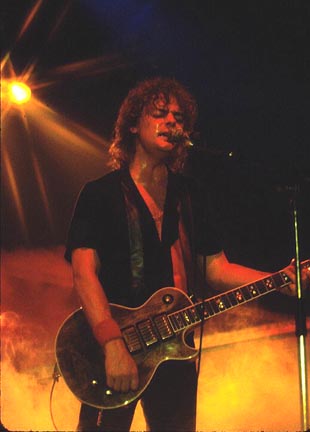 ---
April Wine-Related
MISCELLANEOUS COLLECTIBLES
---
The CHANTAYS Business Card
(1962) Booking Agent Calling Card
Ritchie & David Henman's first band (also included David "Hazy" Hayes)

PRISM Promo Flyer
(1969) Band Management Flyer
B&W pic of David & Ritchie Henman, George Mack

The TRIANGLE Media Folder
(1969) Band Management Promo

DUFFEL BAG with AQUARIUS RECORDS LOGO
(1970s?) Aquarius Records Promo
Not sure about this... perhaps issued or available to company personnel?

CRUISER Sticker
(1979) Plastic Poison Promo
2 1/2" square
Band features Ritchie Henman
Promo for On The Firing Line / Turnaround

CRUISER - ON TOUR Sticker
(1980) Network Records Promo
4" square
Band features Ritchie Henman
"…just possibly one of the most exciting new Rock groups…"

451° Pin
(1980) Intercan Records Promo
Promo for LP featuring Jim Clench

Brian Greenway's SWEATBAND
(1984) Promo Pictures

MYLES GOODWYN Solo Album Poster
(1988) Aquarius / Capitol
17 ½" X 24"
Features B&W close-up of Myles with LP inset

BRIAN GREENWAY Concert Review
(1988)
Review of show at ENTEX (Mississauga, Ontario) by Keith Sharp
Very positive review - "...a major talent just crying to be discovered." Encore included an "upbeat version" of Michael Jackson's The Way You Make Me Feel and Eric Clapton's Wonderful Tonight

BRIAN GREENWAY PUBLICITY PHOTO
(1988) Atlantic Records
8" X 10" B&W pic - autographed

BRIAN GREENWAY - "SERIOUS BUSINESS" Publicity Bio
(1988) Atlantic Records promo
2-sided bio & 5" X 7" promo pic

BRIAN GREENWAY - "SERIOUS BUSINESS" Cassette Tape
(1988) Atlantic Records 78-18274

BUZZ BAND T-SHIRT
(1990) Band promo

BUZZ BAND CASSETTE
(1990) Tandem Records C-91-04
Includes Jerry Mercer
Sealed tape

MONOLITH COMPOSITE CORPORATION Literature
(1996) Sales Literature
Jerry Mercer designed these drum kits
Includes color brochures, price info, cover letter

Photos from THE DUDES Reunion Concert
(4/5/97) Clyde's in Point Claire, Quebec

"MARTIAN MANHUNTER ANNUAL" Comic Book
(1998) DC Comics
Issue #1, titled "For Love and Country"
Features HERE to see David Henman & Bob Segarini in the comic book!

SWEET AS WINE Poster
(1998) Club Promo
April Wine tribute band
Band name on top left; "A Tribute to April Wine" at the bottom
18" X 24" with TNOTB artwork

DAVID HENMAN BAND Guitar Picks
(2006/2007)
2 designs (OK... so they're minor differences!)
---
MAGAZINES
---
THE SHAKIN' STREET GAZETTE
(11/21/74) State University College at Buffalo Publication
Cover story: Special Montreal Issue
Article: Enter: the Dudes! by Gary Sperrazza
"David Henman...would take a Jimmy Page solo LP if stranded on a desert island..." "Brian Greenway...thick mane of hair hiding his face as he whips out licks faster than peanuts out of a can..." David Henman is quoted as saying "Leaving April Wine was a big kick in the ass for us and a big kick for them," noting the massive success of the recent April Wine lineup, who are up for Canadian Entertainers of the Year in 1974. The article's author says of Brian Greenway: "...anyone who throws in licks from 'Day Tripper' or 'Dueling Banjos' in the most absurd places within songs has got just the right sense of humor for your Shakin' Street reporter." As this article was being written, The Dudes were preparing for their first Montreal Forum appearance...opening for Barry White and Love Unlimited.

"ROCK EXPRESS" Magazine
(March 1988) Canadian publication
Vol. 12 / Issue 122
Article: No Wine Before Its Time (Brian Greenway interview)

ACCESS Magazine
(September 1998) Canadian Publication
Features review of A IS A (Gary Moffet project)
Includes ads for A IS A and SEE SPOT RUN (produced by Gary Moffet)

EXTREME Magazine - Issue 21
(Winter, 1998) WNY / Ontario Publication
Features MINDSTORM article & ad (Gary Moffet)

SHOWCASE - The Toronto Sun's Entertainment Magazine
(February 7, 1999) Canadian Publication
Featured article: The Garden's Glory Days by Jane Stevenson
Chronicles the closing of the Maple Leaf Gardens and the bands that played there, including April Wine

ACCESS Magazine
(July/August 1999) Canadian Publication
Includes full page ad for SEE SPOT RUN (produced by Gary Moffet)
Features full page write-up on SEE SPOT RUN titled All The Kids Are Right by Keith Sharp

ACCESS Magazine
(February/March 2000) Canadian Publication
Magazine production/distribution by David Henman
Cover article - SEE SPOT RUN (produced by Gary Moffet)
---
---